FROM FIRST PERSON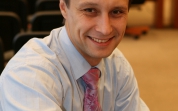 Sergey V. Yushko
CEO of Technopark 'Idea'
Сергей Юшко в Твиттере
28.10.2013
C деятельностью генерального директора Технопарка "Идея" можно ознакомиться в социальной сети Твиттер - @YushkoSergey
read more
IF YOU WANT AND CAN CHANGE THE WORLD – YOU SHOULD NOT LOSE A SENSE OF CHILD IN YOURSELF
03.07.2013
From July 1 to July 10, the Third Summer School "Nanograd" takes place in Moscow. Technopark "Idea" has been sharing the best practice with young and active citizens for three years. This year I have held a presentation of "Idea" and now together with the students we are working on a case, prepared by our resident – the Company "PLC GROUP". In the course of work I have come to the following conclusion
read more
29.01.2013
Following the results of the Republican Youth Forum-2012, I was once again convinced that the belief in the results and clear understanding of what you do as well as self-confidence allow the youth to achieve what the others only talk.
This is an inherent feature of innovators – people who change their surrounding reality.
read more
13.12.2012
When you compare the businesses, we know right well, with the scale they have in the world practice (!), you realize - the world is huge.
We can easily compare the Kazan office that involves 550 employees with the Guangzhou office with 29 000 employees speaking 34 languages and dialects. We have a room for growth, we should just see it.
read more
EVENTS CALENDAR