Chairman of Vnesheconombank Sergey Gorkov studied the activities of Technopark "Idea"
11.05.2018
Chairman of Vnesheconombank Sergey Gorkov and Deputy Prime Minister - Minister of Industry and Trade of the Republic of Tatarstan Albert Karimov visited a new office of the company "Eidos-Medicine", where they got acquainted with the work of the Technopark's residents and the development process of medical simulators.
The company, developer and serial manufacturer of medical simulators, started its activity in the Technopark "Idea" in 2009, and now is the largest resident of the Biomed cluster of Skolkovo, the winner of the All-Russian National Entrepreneurship Award "Business Success 2015", the initiator of the "Medical Science Center" (Kazan). The company's products are known not only in Russia, but also abroad.
Sergey Gorkov's visit was held within the framework of the X International Economic Summit "Russia-Islamic World: KazanSummit", which takes place from 10 to 12 May in Kazan.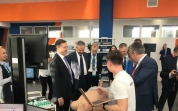 EVENTS CALENDAR