Gurbanguly Berdimuhamedov and Rustam Minnikhanov visited Technopark "Idea"
06.07.2018
Today President of Turkmenistan Gurbanguly Berdimuhamedov has visited Technopark "Idea" during the working visit to the republic. Accompanied by the President of Tatarstan Rustam Minnikhanov in the Technopark, he studied the industrial potential of the republic, represented in the exposition on the territory of "Idea".
The President of Turkmenistan got acquainted with the products of the leading machine-building plants of the republic: Zelenodolsk Shipbuilding Plant, KAMAZ, Kazan Helicopter Plant, KMPO, Ford Sollers Plant.
The guests inspected modern modifications of Mi-8/17, Ansat helicopters manufactured by PJSC "Kazan Helicopter Plant". It should be noted that to date, the plant has launched a full cycle of creating helicopters from development and serial production to its after-sales support.
Helicopters, manufactured in Kazan, total flew more than 50 million flight hours around the world. Over the whole history of the plant's existence, more than 12,000 helicopters have been produced.
The complex of remote monitoring, a small-sized airborne land-launch target complex and other equipment were not ignored.
Special attention was paid to the activities of a resident of Technopark "Idea" - company "Eidos", whose representatives presented their designs to the two presidents - simulation equipment for training doctors in the field of laparoscopy, resuscitation, anesthesiology, surgery, etc.
Note that today in the framework of the working visit Gurbanguly Berdimuhamedov also visited the Kazan Kremlin.
Photo: the press service of the President of the Republic of Tatarstan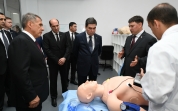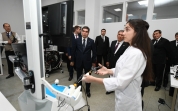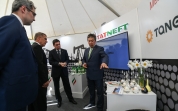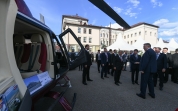 EVENTS CALENDAR