Wang Yongqing: "I wish you success in the innovative path"
28.08.2019
Today, Technopark "Idea" has been was visited by Wang Yongqing, Vice Chairperson of the Chinese People's Political Consultative Council. He studied the activities of a resident of Technopark "Idea" of the company "Eidos", accompanied by the Chairman of the State Council of the Republic of Tatarstan Farid Mukhametshin, and the Minister of Informatization and Communications of the Republic of Tatarstan Ayrat Khayrullin.
Director of the company Lenar Valeev introduced the guests to the main innovative developments, in particular, with medical simulators.
After studying the activities of "Eidos", Wang Yongqing noted the high level of development. "I wish you success in the innovative path", - said the Vice Chairperson at the end of the meeting.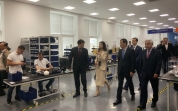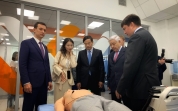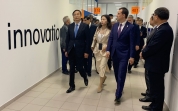 EVENTS CALENDAR