Technopark "Idea" is a member of the Association of Clusters and Technoparks
15.01.2018
Technopark "Idea" became the member of the Association of Clusters and Technoparks. The decision on this was taken on the 22nd December, 2017 at the general meeting of the Association. The membership enables to promote interests of the Technopark at the federal and regional levels, to provide business contacts with interested investors and customers in Russia and abroad and many others opportunities. It should be noted that since 2010 Technopark "Idea" is a full member of the European Business and Innovation Centres Network (EBN). Annually "Idea" confirms its right to membership in the network. Note that in 2013 the Technopark received state accreditation of the Ministry of Economy of the Republic of Tatarstan. Accreditation is a prerequisite for obtaining state support.
The order of accreditation of subjects of innovative infrastructure of Tatarstan was approved by the decision of the Cabinet of Ministers of RT on June 4, 2013.
For reference:
The Association of Clusters and Technoparks is the leading public and business organization of Russia, which unites the organizations of technological and industrial infrastructure in order to improve the conditions for socio-economic development and realize the country's scientific and industrial potential.
The Association was formed in 2011 and unites more than 60 organizations from 30 constituent entities of the Russian Federation, including management companies of technoparks, nanotechnology centers and special economic zones, cluster development centers, specialized organizations of industrial clusters, regional development corporations and other organizations.
The Association represents the interests of more than 2,500 organizations - residents of technoparks and clusters, whose enterprises employ over 110,000 people, and the total volume of output exceeds 450 billion rubles (0.5% of Russia's GDP).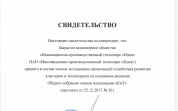 EVENTS CALENDAR