"Gazprom" was presented with the experience of "Idea" in the field of qualification assessment in the nanoindustry
21.05.2018
On May 18, 2018 Technopark "Idea" was visited by representatives of the global energy company "Gazprom". Engineers, managers and specialists of the personnel selection department from Moscow, St. Petersburg, Blagoveshchensk, Nizhny Novgorod and other cities studied the experience of the Technopark "Idea" in the field of qualification assessment in the nanotechnology industry (QAC).
Head of the Qualification Assessment Centre Oksana Lampsi recalled that since January 1, 2017 the Federal Law "On Independent Qualification Assessment" of 238-FZ came into force, within the framework of which specialists of organizations whose activities are subject to the professional standard requirement are required to pass qualification assessment based on the QAC. Therefore, it is necessary to provide enterprises of high-tech industries with qualified specialists, which will increase the ability of the nanoindustry to compete with the economically developed countries of the world on the domestic and foreign markets.
Oksana Lampsi said that the Centre created under the Technopark "Idea" is functioning for about a year. The QAC is created on the basis of the Technopark with the support of the Foundation for Infrastructure and Educational Programs of RUSNANO. Only from May to December 2017 19 experts were being trained and certified in the Council for Professional Qualifications by the QAC. Two examination centers have been opened: in KNRTU (Kazan) and in the Technopark of High Technologies of Khanty-Mansiysk. Valuation means for 12 professional qualifications in the field of nanostructured films have been developed and tested.
Having studied the work of the QAC, Gazprom specialists asked many interesting questions. The visit was completed by studying the activities of the Technopark, including the Nanotechnology Centre.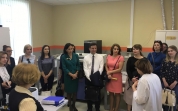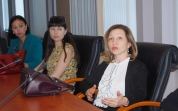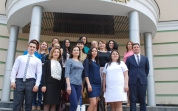 EVENTS CALENDAR