PROGRAMS OF THE ASSISTANCE FOUNDATION PRESENTED TO THE RESIDENTS OF "CHIMGRADA"
29.04.2019
Programs of the Foundation to Assistance for Innovation were presented to "Himgrad" residents
On April 26, 2019 a seminar on the participation of republican companies in support programs implemented by the Foundation to Assistance for Innovation was held in the Technopolis "Himgrad".
The Deputy Minister of Economy of the Republic of Tatarstan Indira Kireeva addressed the participants with a welcoming speech. She noted that participation in the programs of the Foundation is an excellent opportunity to open a new innovative production and enter new markets, including foreign ones.
Farida Gainullina, Head of the Department of Innovative Programs Development of Technopark "Idea", told in detail about the Fund's programs to entrepreneurs. She explained the conditions of participation and answered the most popular questions that arise when submitting applications for competitions. Also at the seminar were presented the best practices of companies - winners of the Fund's programs. Ivan Ershov, Deputy General Director for Science of "PTO Medtekhnika" LLC, spoke about the experience of participation in the competition. Financial Director of "Tatkhimplast" LLC Gilyazova Roza and representative of "Organic Park" LLC Ivan Aniskin gave their recommendations on the preparation of applications.
The event was organized by the Ministry of Economy of the Republic of Tatarstan and Technopolis "Himgrad".
Photo: press service of Technopolis "Himgrad"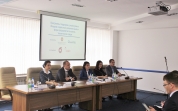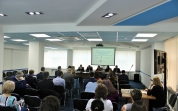 EVENTS CALENDAR